Things can only be changed if they are faced. And when a million faces stare into the eyes of all that needs to change, it will. This weekend, people from across the globe will join in solidarity with South Africans who have had to suffer under extreme conditions in a country rife with corruption, crime, murders, farm attacks and gender-based violence in a massive international demonstration. The "Move One Million" campaign will see 16 countries takes hands with their South African brothers and sisters as they stand up to the government who have failed dismally in their promise to secure a brighter future for all.
"This is not a political campaign, this is a movement to enforce change and bring back the dignity and the freedom of all people," said Joanita van Wyk, Co-Founder of the Move One Million campaign. She took some time out to speak to Bulletin about the drive behind the campaign, what it stands for and what it aims to achieve on Saturday, the 5th of September (tomorrow).
"The immense socio-economic impact under one of the world's most extreme lockdown's during the Covid-19 pandemic has resulted in South Africans uniting for their voices to be heard," she said. "There are many smaller groups campaigning against various atrocities and what we usually hear is 'it won't achieve anything because who will listen to a handful of peaceful protestors'. And those comments carry some weight, but when all those smaller groups combine their campaigns into one massive action, it cannot be ignored. Every person in South Africa has a voice and every business and household has a face, it is time that we show ourselves to the government and let them hear our frustrations. We are now done, and we as South Africans will no longer stand for this."
According to Van Wyk, this weekend's mass-protest will be the catalyst to bring about significant change in South Africa. She explained that the idea behind the Move One Million was to become an umbrella movement under which smaller campaigns can find solace.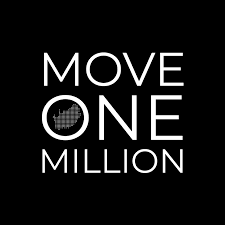 "This movement is not specific. We are not going to protest farm attacks tomorrow. We are not going to protest GBV or human trafficking or corruption either. We are standing up against all of it in one massive movement. Because all of it negatively impacts on all our people, and all of it needs to change."
The movement, which Van Wyk co-founded with Jarette Petzer, is also working on a mass campaign for direct elections. In June 2020, the South African Constitutional High Court ruled that the current Electoral Act is unconstitutional as it does not allow for individuals to stand as independent candidates in local and national elections. This campaign seeks to empower South African citizens to stand united in ensuring all relevant changes are made to the Electoral Act within the 24-month time frame issued by the court. Direct elections will mean that an individual can stand for mayor without having to belong to a political party. That mayor will answer directly to the public.
The Move One Million team believes that this will set the precedence for future generations by providing a legal process that will give more power to the people of South Africa to 'hire and fire' those who represent them in government. This is in contrast to the current legislature which provides for indirect elections whereby citizens vote for a party and each party chooses who they wish to put into national and provincial government.
"Currently the dynamic between the public and the government is twisted. The government should fear its citizens, not the other way around. Ministers and municipal officials alike must be reminded that they are public servants and are there to serve in the best interests of the public who are in actuality, their employers. What the government does not want to see, is a united front forged by people of all ethnic groups, all religions, and all social backgrounds. This weekend, this is exactly what they will see."
Join the Move One Million peaceful protest action on Saturday (tomorrow) at the Lifestyle Centre in Tzaneen and take hands with fellow citizens in every major city centre in the country and 16 countries around the world. "This is set to become one of the largest movements against crime, corruption and the systematic decimation of human rights by the citizens of a country in recent times. Join the movement and force change for a better life and the future of our children."
Keep an eye on the Bulletin Facebook page as we will be streaming live from the Lifestyle centre in Tzaneen. Let us know what your experience of the event was, in the discussion on our social media pages or by sending an email to joe@bulletin.us.com.
>