"I am going to make a sjambok". These were the words of a man who carried a 30-kilogram chunk of hippo-meat to his dwelling in Namakgale, all the way from the Makushane village on Monday night, the 3rd of August. This after the Limpopo Economic Development, Environment and Tourism (LEDET) department shot and killed a hippo in that village on the night in question.
According to the man who felt fortunate to have been around at the time of the incident, he felt excited as he grabbed a bucket and an axe and headed off into the direction of the village, following closely behind the LEDET trackers. "I knew that there had been sightings of the animal in that village since Saturday and so when I heard the department was coming to shoot it, I grabbed the opportunity. You get a lot of meat from such a big animal, enough to feed your family for a month."
According to a staff member of the Phalaborwa SPCA, they received a call from worried community members of Makushane who said that they had spotted a hippo roaming around near the wetlands on Saturday morning.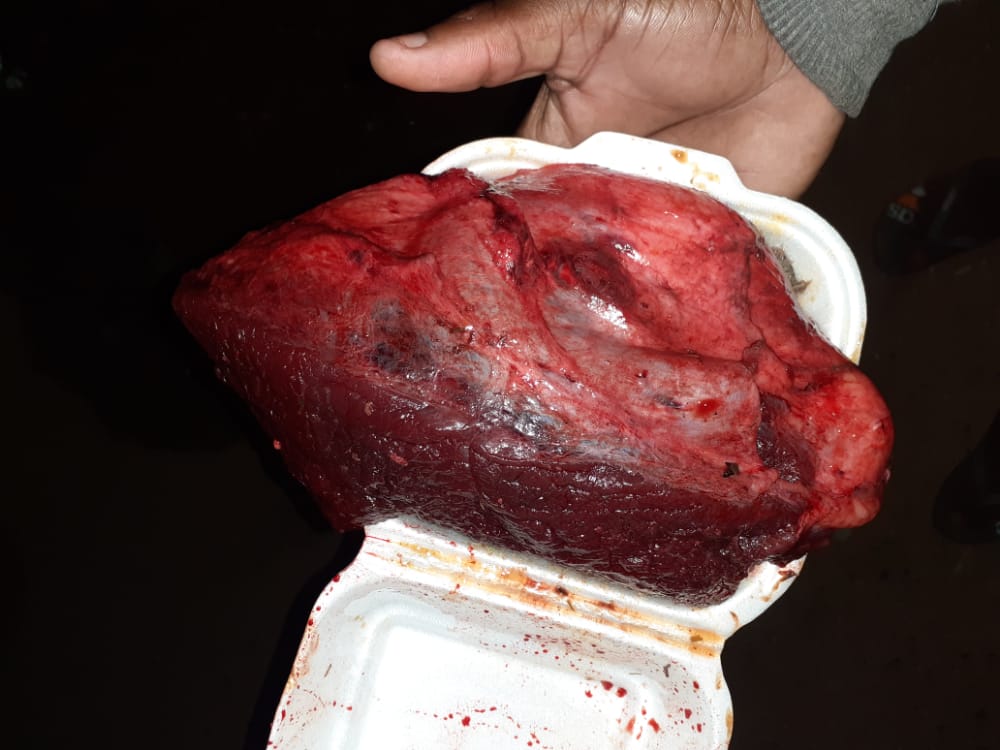 "So, we went out to the site and noticed the animal's footprints going into the stream, but we couldn't find it. The same residents called again on Monday and we handed the matter over to LEDET because the SPCA does not deal with wildlife."
Although hippos are primarily herbivores, they are some of the most aggressive animals if encountered in the wild. According to LEDET Spokesperson, Zaid Kalla, the hippo had been roaming around Makushane for some time. "It resided in a small stream running through the village in between the houses," stated Kalla. "The villagers move through the stream on foot and often come into contact with the animal which resulted in various human wildlife engagements which causes widespread panic and fear."
Kalla said the department was requested to neutralize the situation and the best way they saw fit was to shoot and kill the animal, to the excitement of villagers who would get meat from the hippo.
>