"Dit lyk asof pres. Cyril Ramaphosa en sy regerende party nie geneë is om die krisis rondom plaasmoorde en –aanvalle te erken of iets daaromtrent te doen nie. Dit is nou 'n kwessie van lewe en dood en boere moet hulself bewapen om hulself en hul gesinne te beskerm." So het Dr Theo de Jager, voorsitter van Saai en president van die Wêreld Landbou Organisasie Woensdagmiddag, 8 Julie, tydens 'n nuuskonferensie gesê.
Sy opmerkings was deel van 'n gesprek waar Afriforum 'n verskerpte veldtog teen plaasmoorde aangekondig het. Dr De Jager was in gesprek met Ernst Roets, hoof van Beleid en Aksie by AfriForum en Ian Cameron, hoof van Gemeenskapsveiligheid ook by AfriForum in 'n lewendige uitsending oor Facebook.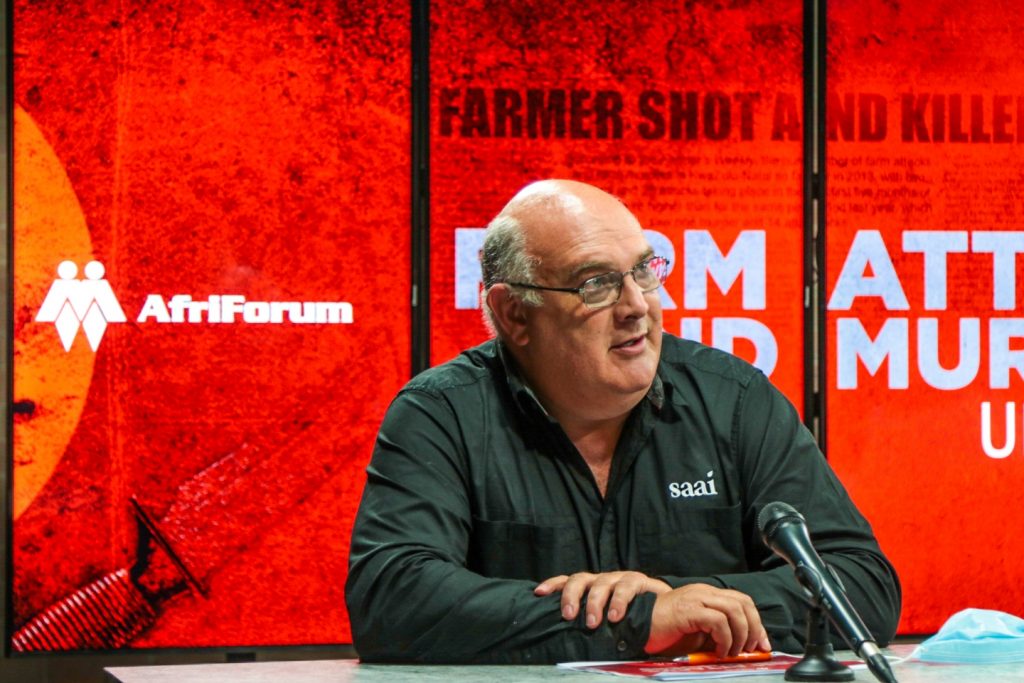 Cameron is van mening dat die aanvalle waarskynlik nie gaan afneem nie, hoewel daar tydens die staat van inperking minder voorvalle was. "Maar soos wat die land af beweeg het na Vlak 3 van die grendelstaat, is dit asof die sluise oopgemaak en die aanvalle net een na die ander weer plaasgevind het. Die president en die staat moet erken dat plaasaanvalle uniek is en duidelik op sekere lede van ons gemeenskap word. Ons is in die steek gelaat deur ons regering en sal nou onsself moet organiseer en proaktief optree om aanvalle af weer."
Volgens hom hou die regering se verduideliking dat die moorde en misdade om ekonomiese redes gepleeg word nie water nie. Die regering het al in die verlede dit duidelik gemaak dat die plaasaanvalle deur armoede aangehits word en hierdie misdadigers die aanvalle uitvoer om kos op die tafel te sit. "Hoe help die moord op 'n swanger vrou wie se keel deur haar aanvallers afgesny word om kos op hulle tafel te sit? Die probleem waarmee ons te kampe het hou verband met die moraal van mense en die regering. Die aanvallers is lafaards wat ouer mense teiken, maar ons sien al hoe meer slagoffers wat terug baklei en hulle is eintlik die werklike helde."
De Jager het 'n baie treffende stelling gemaak. Hy het die regering se standpunt dat daar meer mense in bendegeweld vermoor word afgeskiet deur uit te wys dat daar nêrens op sosiale media 'n oproep gemaak word vir die uitmoor van bendeleiers of lede nie. Daar is ook geen van die sogenaamde "struggle songs" waarin daar oproep gemaak word vir die moord op bendeleiers nie.
"Daar is nêrens op sosiale media 'n oproep dat bendelede vermoor moet word wat moord pleeg nie. Wanneer daar egter 'n plaasmoord is, is daar 'applous' daaroor op sosiale media en word selfs vir meer gevra. Dit lyk of dié moorde goedgekeur word en daar geen optrede of gevolge is vir diegene wat sulke uitsprake maak nie. Die regering het 'n plig om hierna te kyk," het hy gesê.
Die uur-lange gesprek kan op Afriforum se Facebook-blad besigtig word en die ope brief aan President Ramaphosa kan op hul webstuiste gelees word.
>