Swemmers afkomstig uit Limpopo, oftewel wat gebore en getoë is in hierdie provinsie, maak steeds opgang op nasionale sowel as internasionale vlakke.
Twee van hiérdié swemmers is Phalaborwa se Ryan "The Rhyno" Coetzee, en Tzaneen se Ruan "Die Visman" Hanaczeck-Kruger wie onlangs deur die nasionale swembeheerliggaam, Swem Suid-Afrika (SSA), gekies is vir onderskeie nasionale spanne.
Coetzee wie al skouers geskuur het met van die wêreld se beste swemmers en wie met 'n 2018 Statebond Spele medalje spog, het ondermeer saam die Olimpiese kampioen Chad le Clos aan dié wisselslag aflos-item deelgeneem waar die Suid-Afrikaners die derde plek opgeraap het. Coetzee is vir die Nasionale Opespan gekies.
"Die grendeltydperk se reëls het dit baie moelik om enige vorm van oefeninge te doen, jy kan nie gymnasium toe gaan nie en nog minder swem. 'n Mens moes eenvoudig jou eie oefenprogramme prakseer om op 'n manier fiks te probeer bly. Om te probeer uitwis wat die mees aangewese oefenprogramme aangewend kan word om tuis te oefen het dit ongelooflik moeilik gemaak as 'n swemmer", het Coetzee vertel.
Maar vir Coetzee is dit eenvoudig net nie dieselfde soos om aan 'n volwaardige swemoefeninge deel te neem nie. Hy reken na 'n paar weke verloor 'n mens gevoel van die water, wat vir swemmers van sy stofasie 'n verlore saak is. Coetzee meen dat dit vir hom baie moeilik en hardewerk gaan beteken om weer op vorm te kom.
Coetzee sê die uitstel van die talle swembyeenkomste sowel as die 2020 Olimpiese Spele in Japan het 'n bietjie van 'n wegkomkans bewerkstellig. Alhoewel hy geensins van sy liefde vir die sport verloor het nie, dink Coetzee dit is wel goed om bietjie te kan asem skep.
Vir Coetzee het die inperking hom tyd gegee om te peins oor sy toekoms in swem en om van die verlore opwinding van swembyeenkomste te herwin en dit nie net te sien as werk wat afgehandel moet word nie. Dit het my as 'n swemmer ook meer perspektief gegee wat ek werklik nog wil doen en wat swem vir my beteken.
Wat vir Coetzee die uitdagendste gedeelte van hierdie inperking is, is om te beplan hoe om uitgawes te betaal sonder dat daar veel van 'n inkomste is.
Coetzee het gesê om eendag 'n Olimpiese Spele of selfs 'n FINA Wêreldkampioenskap medalje te kan wen sal vir hom 'n baie besonderse mylpaal in sy swemloopbaan wees. En natuurlik om die wêreld se beste swemmers na te streef.
Vir die toekoms is Coetzee nie so seker of hy na sy swemloopbaan afrigting sal aandurf nie, omrede hy dink dat dit nie in sy natuur is om so iets aan te pak nie. Coetzee reken hy sal eerder die besigheidswêreld wil betree na sy professionele swemloopbaan.
Hanaczeck-Kruger, wie tans 'n Graad12 leerder aan die Hoërskool Merensky is, is vir die Senior Jeugspan gekies. Hanaczeck-Kruger is ook 'n swemmer by die Shamu Swemklub op Tzaneen.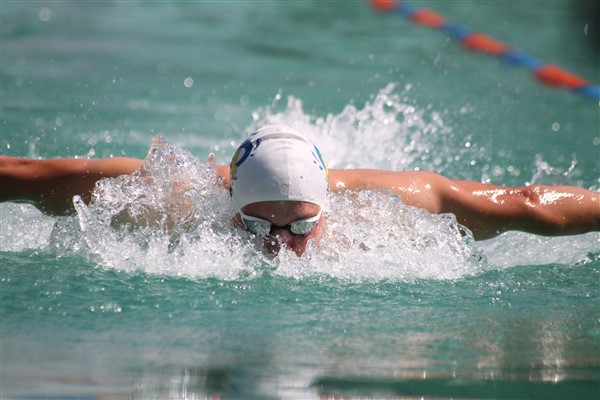 Hierdie twee talentvolle swemmers word ondermeer geoogmerk om aan toekomstige internasionale swembyeenkomste deel te neem waar hulle Suid-Afrika sal verteenwoordig.
Met die gevolg van die Covid-19 pandemie en die grendeltydperk wat daarmee gepaard gegaan het waar swembyeenkomste hierdie jaar gekanselleer moes word, het SSA hul strategie verander om swemmers en toekomstige talent te identifiseer.
Die lang termyn ontwikkelingsplan vir swemmers soos aangedui deur SSA word beoog om toekomstige talent te identifiseer, te ontwikkel en te ondersteun vir byeenkomste soos die 2022 Statebond Spele en vir die 2020 sowel as die 2024 Olimpiese Spele (alhoewel die 2020 Olimpiese Spele in Japan vanjaar na volgende jaar uitgestel is). Dié strategie word ook beoog om medalje wenners te kweek.
Hierdie spankeuses deur SSA is ook om te verseker dat die swemmers blootstelling aan internasionale swembyeenkomste kry en die hoeveelheid van elite swemmers te vermeerder.
SSA het 'n swetterjoel swemmers gelys vir die Elite Senior, Nasionale Ope, Senior Jeug, Jeug en Junior spanne waaronder Coetzee en Hanaczeck-Kruger deel van hierdie swemmers is.
>