Dog Noel is one of the founding members of the Ofcolaco Harriers Running Club and a veteran marathon athlete who has completed no less than 25 Comrades Ultra Marathons. This achievement is even more astounding considering that he completed them all in consecutive years, a feat many other athletes yearn to accomplish.
Noel in all his humbleness spoke to Bulletin about his experiences in competing in 25 Comrades Ultra Marathons and mentioned that he was a former cartoonist for the Far North Bulletin. Being a cartoonist, Noel has an obvious sense of humour, even though he takes his road running seriously.
"While its somewhat embarrassing to talk about my own achievements, I suppose the timing is right, for two reasons. One, I'm rapidly coming to the end of my running life, and secondly, it's the first year since World War Two that the Comrades is not being held, and being replaced by a 'Virtual Race', in which all persons may compete in."
Noel said he started running at the age of close to 40 years, when a group of similarly aged Ofcolaco residents, both male and female, decided that they would give up all their unhealthy pursuits, bar alcohol, and try to extend their lives. He said this was how the Ofcolaco Harriers Running Club was established, and still regarded as the most prestigious club in Limpopo by its members.
"Well, one by one, members of that original team started giving up running for various reasons, others have died since. My boet, Bun, and I are the only ones who are keeping it going. We are happy that younger people are joining our club."
Noel said it took only a couple of years to run the first Comrades in the late eighties.
"Rob Stewart, a pair of Hayes brothers and this fool, Dog, lined up for that first Comrades. In subsequent years, my brother Bun joined us for the emotional roller-coaster race that is the road between Durban and Pietermaritzburg."
"I find it difficult to pick a race that stands out from the rest, having done it 25 times. But for a Comrades runner, receiving your permanent, 'Green' race number is special. I was lucky enough to be presented mine by the late, great Wally Hayward, who was a past winner and the oldest runner at 80 years of age to complete the Comrades Ultra Marathon", said Noel.
According to Noel every Comrades run is a combination of excitement, worry, pain and then hopefully triumph. He said the other race that stands out for him, was most surely when he achieved his 'Double Green' number.
"My 'Double Green' number was handed to me by none other than Alan Robb, a previous winner and hero of mine, a man with the unusual mixture of incredible athleticism and humility."
"I remember my penultimate Comrades race for two reasons. The first being that its recent enough to remember, and for the fact that I came awfully close to not finishing by the time the cut-off gun was fired."
"There's a mean hill in the up-run, called Polly Shorts, and it ends about eight kays from the finish-line in Pietermaritzburg. I walked up the entire hill, knowing that I would not finish in time, but as I crested the hill, and attempted to run, I realized that the long walk or my prayers had worked."
"I started running like a scalded cat, passing other runners who were walking in the semi-darkness, beaten, dejected, some of them in tears. I got there just a minute or two before the final cut-off gun was fired, and the playing of 'The Last Post', a traditional tribute to the comrades who fell in the first war", said Noel.
Noel said that Tzaneen has its fair share of runners who regularly run 'the ultimate human race', at least one of whom, has run it more often than he has done.
According to him, at 72 his age and good sense have stopped him from running long distances races.
"But it will be with gratitude that I will, come Sunday, take on my own version of the Virtual Comrades, what I will call a Covid-19-socially-spaced 21km race."
"Gratitude also goes to my wife Rhoda, the ultimate supporter to me, and her support of my selfish pastime."
"It may be asked, why do this thing 25 times? Well, firstly it was to find out if it was possible, but thereafter it gradually became a sort of annual pilgrimage. The Comrades is more than a sign of insanity, it's a day in the year when class distinction, race, even athletic prowess go out of the window, and because of that, it's slightly addictive", said Noel
"My last run was, I confess, an act of vanity. I wanted to run the race wearing my 70 age tags. Would I do it again if I were young enough? For sure", said Noel.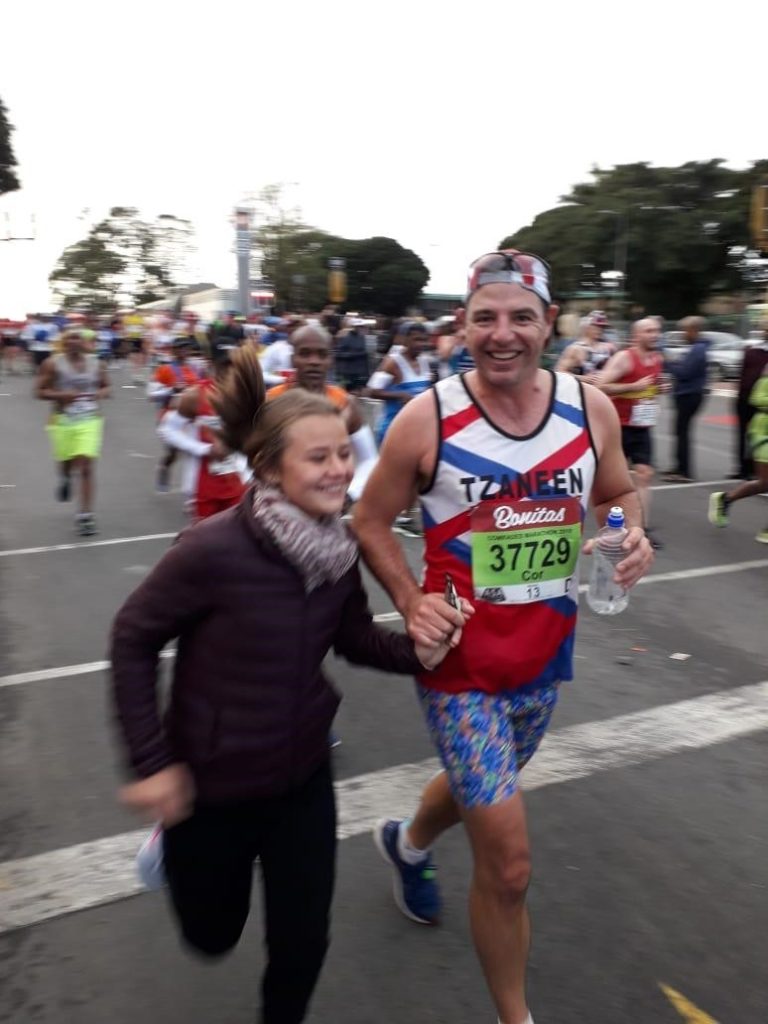 Cor van Heyningen from Tzaneen Marathon Club is one of numerous other athletes from Tzaneen who will be competing in Sunday's Comrades Ultra Marathon Virtual Race.
"I am genuinely excited to compete with friends who were preparing with me for the Comrades before the lock down was initiated. I am starting at 06:00 from Dr Annecke Street and the first few kilometres of my 90km run will be with my dogs", said van Heyningen.
Van Heyningen said for him the Comrades Ultra Marathon is one of the ultimate and most iconic road races in the world. He said along his 90km run on Sunday friends will join him along the route.
"I have competed in the Comrades Ultra Marathon since 2000. I am originally from Johannesburg and after my studies and working for a few years in the city, I moved to Tzaneen where I joined Tzaneen Marathon Club as soon as I was established here. But I miss the atmosphere, the sound of Shosholoza and Chariots of Fire being played at the start of the Comrades", said van Heyningen.
Heyningen said during the lock down period he trained on the treadmill at home where he completed up to 500km in total. He said he was grateful to be running outside again and looks forward to Sunday's Virtual Comrades Marathon.
All runners need to do to compete in the Virtual Comrades Marathon is go to the Comrades website, register for 'Race The Comrades Legends', select the distance of 5km, 10km, 21km, 45km or 90km. The cost is R150 for South African runners and $25 for foreign athletes. Entry is free of charge to all South African runners who have entered the 2020 Comrades Marathon.
>