Ford dealers in South Africa have stepped up to support the Ford Motor Company of Southern Africa's initiative to produce COVID-19 face shields by contributing R1-million to the project from the Ford National Dealer Council.
Additionally, Ford suppliers and business partners have donated over R900 000 to the project, which includes a substantial R600 000 from Absa, with which Ford has a joint venture in Ford Credit.
To date, 100 000 face shields have been produced at Ford's Silverton Assembly Plant in Pretoria, primarily for donation to the Department of Health's centralised distribution centre in Centurion.
"We are exceptionally grateful to the Ford National Dealer Council for joining this initiative and matching our contribution," says Neale Hill, managing director of Ford Motor Company of Southern Africa (FMCSA).
"The coronavirus has had a dramatic impact on the country as a whole, and has severely affected the local motor industry. However, the Ford dealers recognise the need to stand together with all South Africans in fighting this common enemy, and we are committed to assisting Ford Motor Company of Southern Africa's face shields project with the R1-million contribution on behalf of all Ford dealers in South Africa", said Ward Huxtable, chairman of the Ford National Dealer Council.
"Absa's donation of R600 000 is greatly appreciated, as it will help fund thousands of face shields for the crucial health and essential services workers. Several of our other suppliers and business partners have also backed the project, contributing R300 000 thus far, which helps us expand our efforts to assist the South African government in limiting the spread of COVID-19", said Huxtable.
Sazini Mojapelo, Head of Citizenship, Absa Group Limited said they are pleased to extend a hand in the fight against the spread of COVID-19 and to assist in protecting our health care professionals on the front line.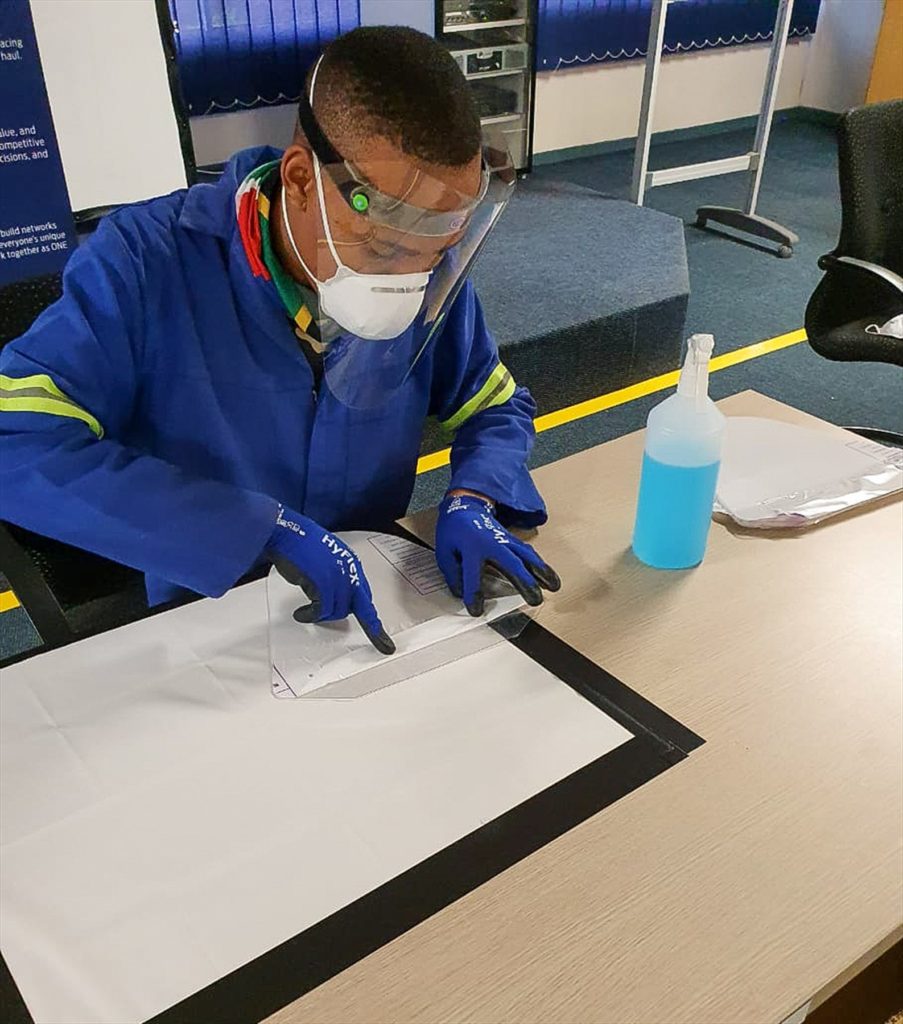 "This is one of our key prorities at Absa as we battle this disease to ensure that those performing essential services including our own frontline staff, who are our heroes, continue to provide services to our customers during this difficult period", said Mojapelo.
A total of 85 Ford employees and supplier company volunteers are involved in the production of the face shields, with Ford covering the cost of the labour for assembling the kits and the packaging process. All the money that is raised are used to purchase the face shield materials.
The face shields are manufactured to global health standards, using a clear polyethylene sheet, polyurethane foam padding and a headband so that it wraps around the user's face, providing protection for the eyes, nose and mouth against the spread of the coronavirus.
Clear instructions are provided on how to wear the shield correctly, along with cleaning and storage guidelines. They are designed to be reusable, and sanitized after each use.
The teams work according to strict COVID-19 health and personal hygiene guidelines, and are screened regularly for coronavirus symptoms. They are required to wear latex gloves, face masks and the face shields, and maintain appropriate social distancing at all times. Any queries regarding making donations can be e-mailed to socialme@ford.com, using the reference: Ford SA COVID-19.
>