While broadcasting the 'Daily Drive with Joe' show, Bulletin editor Joe Dreyer stumbled across a group of Greater Tzaneen Municipality (GTM) executive committee members standing in the parking lot of the taxi rank behind Tzaneng Mall. The taxi rank is situated within the independent state of Claude Wheatley and has been at the centre of much controversy regarding the absolute disregard of the municipal bylaws and national traffic regulations by the taxi operators as well as the all-encompassing absence of GTM Traffic officers in that same area.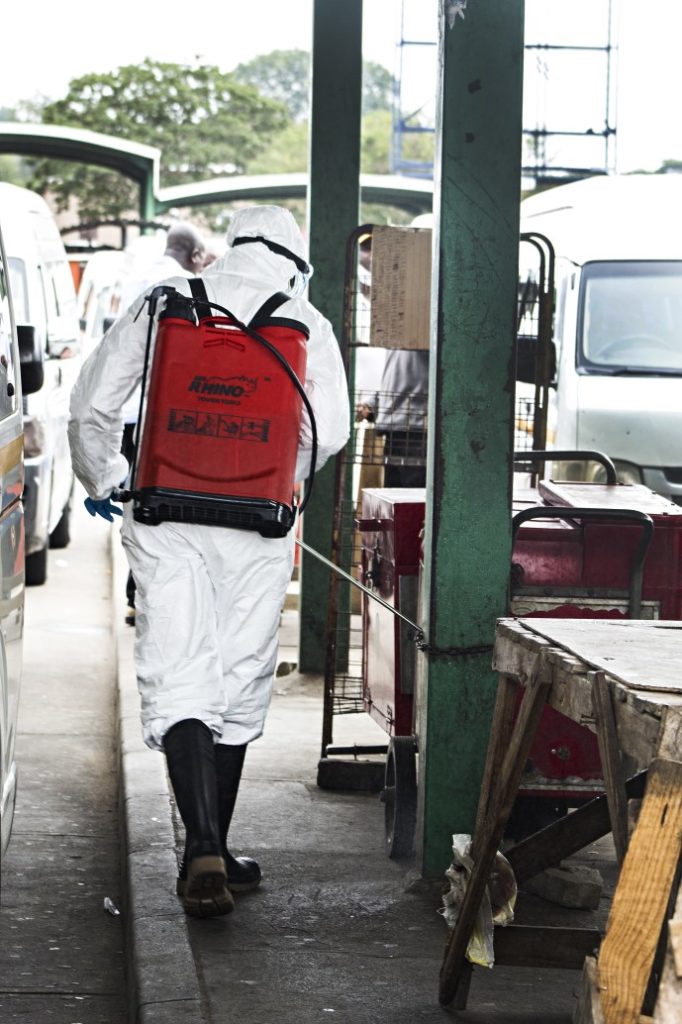 The GTM mayor, Maripe Mangena as well as the GTM Speaker, Dikeledi Mmetle were standing in a group along with their spokesperson, Neville Ndlala. They seemed surprised when they saw the media. "We are here to disinfect the taxi rank structures," explained Ndlala when asked what they were doing at the rank. "The structures belong to the municipality and so we will focus only on surfaces that could be touched by human traffic. We will not be disinfecting the taxis themselves as it is expected of each operator to disinfect their own vehicles."
Three GTM employees were dressed in hazmat suits with great big canisters of industrial disinfectant on their backs. A spray nozzle hung like a rifle at their sides. The mayor and speaker were joined by the manager for environmental affairs, Maggie Matsemela, exco member for planning and development, Sannie Tiva, exco member for the department of health at the GTM, Lettie Hlangwane and councillor Margeret Letsoalo of the GTM.
Before the disinfecting could kick off, Mayor Mangena first explained to the taxi operators what they were going to do and according to tradition, received permission to continue. We found it a strange coincidence that the media was not informed of this operation, and that permission not only needed to be obtained from the taxi operators, but that this process was not completed a few days before the operation commenced. Could this mean that the visit to the taxi rank was in fact an impromptu decision considering the visit by the Minister of Police, Bheki Cele a few hours later on that same day?
To view the video interview and live coverage of this operation, check out the video gallery on our Facebook page. Like and subscribe to our Youtube channel and follow us on Instagram @Buletintzn for more content and up to the minute news as it breaks.
>